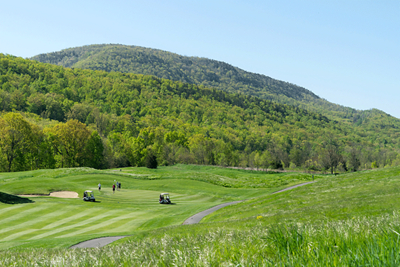 History
Construction began on our beautiful course during the summer of 1999 by the previous owners of Whitetail Ski Resort. Under the design guidance of course architect Rick Robbins, the natural topography was utilized to create both a challenging and scenic course sure to please golfers of all ability levels.

Rick Robbins began his career in 1973 as a lead designer for Hagge & Devlin, Inc. As such, he played an important role in the design and development of many golf course communities. In 1986 he joined the golf course development team of Nicklaus / Sierra Development Corporation. In 1991, Rick formed his own company, Robbins & Associates.

The course was completed and opened to golfers for the first time in May of 2001. In 2006, Snow Time, Inc. purchased the golf course and in 2010 construction began on a new clubhouse. Our brand new 9500 square foot Pro Shop and banquet facility opened its doors in April of 2011.

Come spend the day with us for a round of golf, and enjoy the breathtaking scenery.

You will be glad you did!
Golf Resort Amenities
New Handicap System Coming In April 2021
We will be providing our Pass Holders and guests the opportunity to host their handicap with us this season. Handicaps will be official USGA Handicaps. (GHIN System) This system is simple and easy to use. After completing their round, players will log into the app and enter their score.
For more details and to sign up for your handicap, simply ask the Pro-Shop staff for more details.
Summer Solstice
Beginning in March, we will be open for Grab and Go food items, along with soft drinks and a selection of beer.
Golf Equipment
Whether you are in the market for new clubs or need repair work on your existing clubs...we have you covered. Just contact our Pro-Shop staff and we'll get you taken care of.
Grips & Shafts
Whitetail Golf Resort now has the ability to offer grip replacement and shaft repair. Is your favorite club sitting in the basement with a broken shaft? If so, then bring it into the pro shop and we will make it like new again! Good grips are one of the keys to your game that you can control. You should re-grip your clubs every 25 - 50 rounds. Some studies have shown that golfers playing with worn grips show improvement of 3-4 strokes after re-gripping.

Pro Shop
Stop by the pro shop today for all of your golfing needs. We offer many amenities out of our pro shop to help make your golfing experience the best it could possibly be.