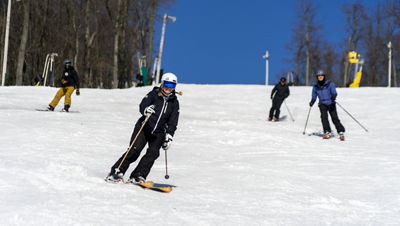 NOW OPEN for the 2022-23 Season!
Thanks to the hard work of our Mountain Ops Team, the mountain has once again come alive to provide an experience that's leaps and bounds above the rest for our guests. Come join us for some mountain fun!
Planning to come up to visit? Check out our planned hours for the 22-23 ski and ride season below!
Current Hours of Operation
Previous tab
Previous tab
General Hours of Operation
2022-23 Winter Season Hours Of Operations:
Skiing & Snowboarding
Monday - Wednesday: 9:00 AM - 5:00 PM
Thursday - Sunday: 9:00 AM - 9:00 PM

Snow Tubing

Thursday & Friday: 5:00 PM - 9:00 PM
Saturday & Sunday: 12:00 PM - 8:00 PM
Dining
Dining Venue Hours

The Trailside Grill
Monday - Wednesday: 11:00 AM to 4:00 PM
Thursday - Sunday + Holiday Mondays: 11:00 AM - 8:00PM
Marketplace Cafeteria
Monday - Wednesday: 9:00 AM to 5:00 PM
Thursday - Sunday + Holiday Mondays: 9:00 AM - 9:00PM
Day Break Café
Thursday - Sunday: 8:30 AM to 1:30 PM

Mountain Hearth Pizzeria
Thursday - Sunday: 11:00 AM to 9:00 PM

Solstice Restaurant & Bar
Friday - Sunday: 11:00 AM to 9:00 PM
Tubing Cafeteria
Thursday - Friday: 5:00 PM - 9:00 PM
Saturday - Sunday + Holiday Mondays: 12:00 PM - 8:00 PM
Sales & Services
Winter Season Hours

Monday - Wednesday: 8:30 AM to 5:30 PM
Thursday - Sunday: 8:30 AM to 9:30 PM
Retail & Rental
Winter Season Hours

Monday - Wednesday from 8:30 AM to 5:30 PM
Thursday - Sunday from 8:30 AM to 9:30 PM