Mountain Dining
Keeping you properly fueled is key to a great day on the mountain, and we're passionate about bringing you a variety of dining options to make that happen. Due to local restrictions on capacity limits, we highly recommend that guests bring their own snacks and water. Our quick service restaurants will be open and we've made necessary changes with your safety in mind. PLEASE NOTE: Our dining and lodge facilities will not allow storage of equipment or gear this season. Please plan ahead and utilize your car for storage prior to making your way to the slopes.
We look forward to welcoming you back to our restaurants this season! Whitetail Resort's commitment to safety continues to be at the center of everything we do, so as we welcome guests from around the world this season, our COVID-19 policies are focused on the indoor experience at our resort.
Before you head to one of our dining establishments, please read through updates to our safety and dining policies.
DINING AND VACCINATIONS: Guests ages 12 and over will be required to show proof of COVID-19 vaccinations to dine at our indoor, on-mountain quick-service (cafeteria-style) restaurants. Adults 18 and over will also need to provide a photo ID. Government-issued IDs with a photo and name matching the guest's vaccination card will be accepted, as well as Epic Passes with photos.
Guests can provide proof of vaccination by showing:
A physical vaccination card
A photo of a vaccination card on their phone
An official vaccination mobile app, including all official U.S. state, European Union and foreign country mobile apps, digital passports and digital certificates; and the following third-party vaccination mobile apps: Clear Health Pass, IATA Travel Pass App, Verifly, VaxYes by Gogetdoc, and CommonPass
One-time validation available:
After the first validation of COVID-19 vaccination, guests may opt for a small, non-transferable sticker to be applied to the front of their pass. Guests with this sticker can re-enter indoor, cafeteria-style restaurants at any Vail Resorts property for the remainder of the season without re-validating their proof of vaccination at the door. Guests may also opt not to receive a sticker and instead to re-validate their proof of vaccination each time they enter indoor, cafeteria-style restaurants. Regardless, Vail Resorts will not be recording any guest vaccination status information.
The following vaccinations recognized by the World Health Organization will be accepted:
Moderna, Pfizer-BioNTech, Johnson & Johnson/Janssen, Oxford-AstraZeneca, Covishield, Sinopharm, and Sinovac. This is currently the only part of our experience that will require proof of vaccination unless required by local public health.
Whitetail Resort quick-service/cafeteria-style restaurants that will require proof of vaccination include:
DINING POLICIES: We strive to provide a variety of dining options for all of our guests who wish to dine with us. In order to accommodate the high volume of customers our restaurants serve, we ask you to observe the following dining policies:
All tables and seats will be available for present guests only. We ask that guests please do not hold tables.
All tables have a time limit of 45 minutes.
There is no storage of personal belongings in our restaurants or lodges unless in a designated locker or cubby area.
Catering or communal food for large groups is not permitted. Individuals and small groups are permitted to bring in their own food.
Holding multiple tables for large group dining and outside parties is not permitted.
Hours of Operation
Opening and closing times may change throughout the season. For the most up to date information view our Hours of Operation page.
View Current Hours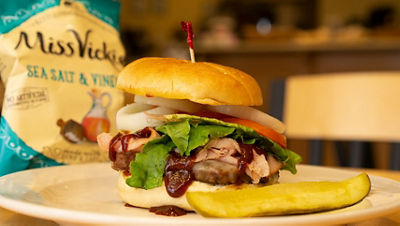 The Trailside Grill
If your looking for a convenient dining option to grab a quick bite to eat or canned beverage...Look no further than The Trailside Grill! Located on our slope side patio, the Trailside Grill offers burgers, hot dogs, chicken fingers, snacks, canned cocktails, beer, and more!
No vaccination will be required.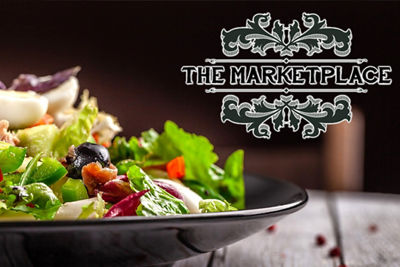 The Marketplace
If variety is what you are looking for, you've come to the right place...Marketplace! Enjoy a hot juicy burger right off of the grill with a side off fries or a variety of other delicious choices. Need something to warm the soul? Grab a bowl of steamy hot soup, chili, or Mac & Cheese!
(PROOF OF VACCINATION IS REQUIRED, Masks are required unless actively eating or drinking)