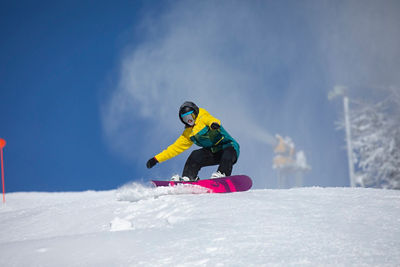 This section of our guide will help you decide what to wear during your visit to Whitetail. By dressing properly, you'll stay comfortable no matter what Mother Nature throws at you.

By dressing properly, you'll be comfortable no matter what Mother Nature throws at you.
Dress in layers. Wearing several lighter layers allows you to adjust your clothing as the temperature changes.
Wear a base layer of long underwear or tights.
Wear a warm collared shirt, sweater or fleece.
Water and wind resistant pants are the best bet, and you will be very glad you have them. Snow or ski pants are ideal, but jeans are OK as long as you bring an extra pair. Avoid sweat pants; they get wet very quickly! Be sure your pants are wide enough at the bottom of the legs to fit over large boots.
Wear a jacket or shell with a high collar; once again water and wind resistant is best.
Make sure to wear high socks. Bring a couple of extra pairs of socks - the higher, the better. Avoid socks with big, thick seams if possible.
Always wear eye protection: either sunglasses or goggles.
Wear gloves or mittens. Gloves allow more freedom of movement, but mittens are warmer. Avoid knit gloves; they get wet very quickly.
You will want a warm hat that covers your ears. The old saying "If your feet are cold, put on a hat" is true!
Sunscreen and lip balm are a must. Make sure to wear SPF 15 or greater. Even on cloudy days it is very easy to get too much sun when on the snow.
Be sure to bring extra clothes to change into for the ride home!
You will also need a driver's license or credit card to rent skis or a snowboard. Please bring them with you to the rental center.
The Whitetail Mountain Sports Shop, conveniently located just steps from the slopes, carries everything listed above. Stop by the shop upon your arrival to
Whitetail Resort; our friendly staff will gladly help you prepare for your day on the Mountain.